Secure
ISA100 Wireless provides robust, multi-tiered, policy-based security to ensure the safety of system operations. Communications are protected using a time-enhanced application of the NIST standard 128-bit Advanced Encryption Standard (AES) block cipher.
Completely Wireless
ISA100 Wireless delivers the first completely wireless security solution on the market. When building, installing, or maintaining a wireless device, a wired provisioning interface adds time, cost, and risk. ISA100 Wireless uses infrared ports or over-the-air communications to make provisioning convenient and safe.
Scalable
The security industry is evolving rapidly, and ISA100 Wireless' security features are designed with change in mind. Scalable encryption in two security layers ensures that ISA100 Wireless products and systems will continue to meet users' and regulatory agencies' future security needs.
Time-Enhanced
AES-128 security is the industry standard, but we've made it better By adding an additional layer of security based on time signature, ISA100 Wireless systems are protected against replay attacks.
Proven
Our open, consensus-based design and review process ensures ISA100 Wireless security provides credible confidence to end users and suppliers alike.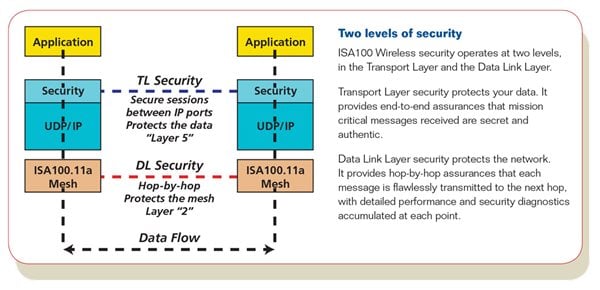 Only devices that have legitimate and unique secret join keys are admitted to the network. Multiple-tiered AES-128 keys are derived from join keys and updated periodically. This secure key derivation method is the basis for a trusted relationship that makes the ISA100 Wireless network secure throughout the entire system life cycle.
Speak with the ISA100 Wireless Experts
Purpose-built by the industry for the industry to meet end users' requirements and future proof investments. ISA100 Wireless simplifies wireless operations, improves plant performance, and reduces your operational costs.