Universal Industrial Wireless Network
Eliminate segregated sub nets. ISA100 is your single plant-wide wireless solution.
ISA100 Wireless is characteristically different than other wireless protocols. Built with decades of operational experience in mind, it was designed to seamlessly integrate non-native protocols in order to make the operator's job as simple as possible. So say goodbye to managing different subnets for different protocols. With ISA100 Wireless, you only need one. This is accomplished in three unique ways.
ISA100 Wireless Objects
ISA100 Wireless can simultaneously accommodate multiple non-native protocols all within a single, interoperable network via the ISA100 Wireless object-oriented application model. Examples available today include:
GasSecure gas sensor (ProfiSafe for enhanced security)
3eTi network nodes (FIPS 140-2 for military grade security)
GE Bently Nevada Vibration sensors (proprietary protocol)
Honeywell Enraf radar level gauge (proprietary protocol)
Tunneling
Another way to transmit non-native protocols through ISA100 Wireless networks, tunneling gives device manufacturers multiple options when building ISA100 Wireless products.
ISA100 Wireless Adapter
The ISA100 Wireless object-oriented application model enables the ISA100 Wireless HART Adapter to seamlessly integrate HART devices into the network while maintaining interoperability.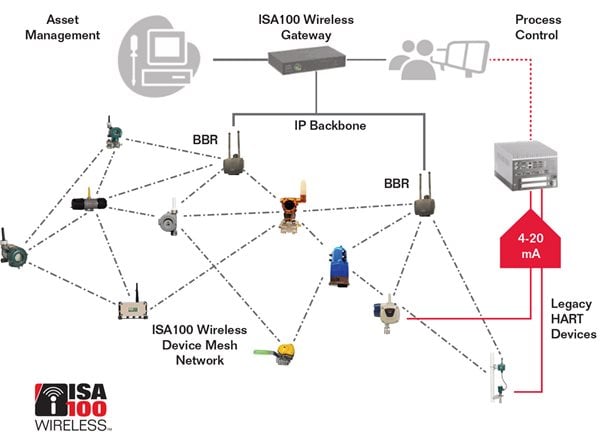 The figure above demonstrates the flexibility of an ISA100 Wireless network. The mesh network is comprised of devices from multiple manufacturers. Some are using the native ISA100 Wireless protocol. And others are using ISA100 objects with different protocols. The two legacy HART devices, wired to a controller, are reporting HART digital data to the ISA100 Wireless network via ISA100 Wireless HART adapters.
Speak with the ISA100 Wireless Experts
Purpose-built by the industry for the industry to meet end users' requirements and future proof investments. ISA100 Wireless simplifies wireless operations, improves plant performance, and reduces your operational costs.